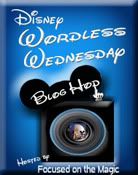 This is a funny story.
You
see we went in to get the kids haircuts and the traditional paint and confetti too. But Dad also wanted to get his hair cut at the Main Street Barber Shop too. BTW, for many years we didn't even know it was there and that's where the Birmbaum's guide to WDW comes into being a Disney Fan's best friend. LOL.
But he had no idea what was painted on back of his head, the lady who had cut his hair had a good sense of humor and asked if she could paint something on the back of his head, I think he asked for Mickey Ears. Well he got flowers instead and when he found out he was not pleased. Yes, he was mocked but all in good fun. He then got embarrassed and proceeded to go right into the bathroom to wash it off. We begged him not to but, his manly self could not bear it walking around the Magic Kingdom like that. So in the end at least we got a picture..