Collect a Little Magic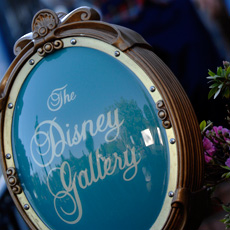 This article gives a lot of good tips about how to collect Disney pins, art, etc. and keep your collection in good shape.
My personal Disney collection includes coffee mugs, pins, Vinylmations, key chains, art, cells and bags, etc.. One thing I have started as a Disney Tradition is to bring home something with the new logo from that year, it changes every year and whether it's a picture frame, bumper sticker or mug from Disney World, I have a reminder from that year.
I love collecting and I pick up new additions every year. It is like bringing home a piece of the most happiest place on Earth. Thanks for stopping by and Check out some of my collections;-).
What's in your Disney collection??
Park Starz Vinylmations
Valentine 2012 Vinylmation
An ever-growing number of Disney fans have taken the jump to owning a slice of Disney for their own. Whether it's a lanyard full of pins to keep and trade, a portfolio of exquisite original Disney art, or a roomful of everything Winnie the Pooh, a lot of us are Disney collectors.
We've put together a little guide to starting your collection (it doesn't have to cost a fortune!), maximizing your fun, and caring for your treasures.
Where to Start
You don't have to stick to the beaten path – almost anything is collectible. You can do a theme collection – for instance Fairies, Autopia memorabilia, Disney TV. Or collect a particular type of object – animation art, Disney sunglasses, key chains, postcards, promotional drink cups, figurines, Christmas ornaments, dolls, jewelry, or hats. Or only collect a particular era (maybe the fabulous '50s), or artist, or film. The possibilities are endless!
As our examples show, your collection doesn't have to be expensive either – keychains and postcards start at around a dollar each. Many people begin collecting inexpensive theme park souvenirs, then gradually add vintage or unique objects as their interest and knowledge grows.
Displaying your beautiful Disney collection adds to the fun. Think of interesting ways to show off your treasures: ornament a Christmas tree with Disney keychains, put postcards in shadowboxes, or adorn a backpack with pins.
Fill gaps in your collection by trading with other collectors. It's a lot of fun! Collector's groups make it easy to meet people who share your interests. If you like the social aspect of collecting, don't miss
Disneyana events
that let you learn more about collecting and make new friends.
If you're interested in collecting one-of-a-kind, possibly high-ticket items like original art or historical autographs, how can you protect yourself from fraud? There are a few things you can do to make wise purchase decisions:
Choose known, reputable sources, like Disney Auctions,
DisneyStore.com
, galleries carrying official Disney items (such as Courvoisier Galleries®), or the shops at
Disney Theme Parks
.
Research an item BEFORE you bid or buy. Learn what it should look like, and about how much it's worth. Ask the seller any questions you have, and only buy when you feel confident.
Caring for Your Collection
Some collections are easier to care for than others. Your hat collection probably just needs occasional dusting, while if you decide to invest in priceless one-of-a-kind art pieces, you'll be concerned with framing, display, and possibly even insurance issues.
Local climate conditions can really affect the items in your collection. If you have valuable pieces, talk to an experienced local framer about dealing with extreme humidity or dryness if these are issues where you live.
A little care in placement can keep your framed art or other paper-based collectibles safe. Hang art no higher than eye-level (heat and humidity rise). Avoid direct sunlight when placing pieces for display. Never hang a framed picture (or any other heavy object!) over a bed or baby's crib.
Framing materials should be of the highest quality. Don't place glass over framed art; UV-protection acrylic, which filters out many of the UV rays that can damage art, is a better choice. Ideally, choose a framer who specializes in the type of material you collect – whether it's stamps, animation cells, or works on paper.
Finally, don't over clean – sometimes art fares best if left alone. Don't use harsh cleaning products, abrasives, or hot water to clean your Disney sculptures, pins, or fine art! Gold leaf and painted details can be removed, surfaces can be scratched, and porcelain can even crack outright if exposed to too much heat. Dust with a soft cloth – if more cleaning is needed for a valuable object, it's better to have a professional do it than take a chance on ruining your treasure.
And most importantly ... have fun. Your collection should be a source of joy!