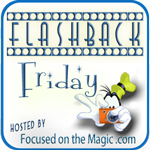 Pocahontas and Her Forest Friends
Welcome to this week's Friday Flashback, I wanted to continue with my theme from last week; Pocahontas.
When I started looking at this series of pictures I remembered how much I loved this show. So since it's no longer at Disney's Animal Kingdom this really is a flashback for me.
What I loved about the this Show was the idea of conservation and treating all of the Earth's creatures with kindness.
Pocahontas told a story very similar to the movie about how everything on the earth has a life and should be respected. She would speak to Grandmother Willow just like in the movie.
The show included many live animals and for the audience this was extra special. The Cast Members would ask that the children get in the first couple of rows in the front of theatre so they could get a close up of the all the action. For my kids seeing the live animals was very exciting. And when it was all over confetti would explode out into the audience, a souvenir reminder of what we had learned at the show.
"Pocahontas and her Forest Friends" was performed at
Disney's Animal Kingdom
from 1998 until 2008.
If you did see this show what did you think of it? Do you think it should still be at Animal Kingdom?
Thank you for joining me today on this

FlashBack

and Have a Magical Day ....
Pin It