If
there
is one thing that doesn't disappoint
,

it's
the beautiful Disney Art. I recently went to the
Festival of the Masters
at Downtown Disney and got to see many different showcases of art. The festival included paintings, jewelry, recycled art, sculptures and many more. It stretched the entire length of Downtown Disney from West Side to Marketplace. There was also a do it yourself craft booth with help from Micheal's and a Lego booth both with Disney character crafts. But, I really went to see all the different Disney Artists and their interpretation of the characters and movies. I wasn't disappointed, I really love seeing the characters painted, drawn and pictured in new styles.
Yes That's all Legos
Here's the dates that will features Disney Art at
Downtown Disney
. Some of Disney's greatest characters are featured in some original art being showcased this December. Characters like the Little Mermaid and Dumbo. These paintings are beautiful, I would like everyone of them and then I will need a Disney Gallery to put them all in. Be sure and check them out at Downtown Disney next month, I know I will.
There is one thing I love to collect anything with Mickey on it. And here is one of my most loved pieces.
Lenox and Mickey
The image below is of a beautiful painting by Costa Alavezos.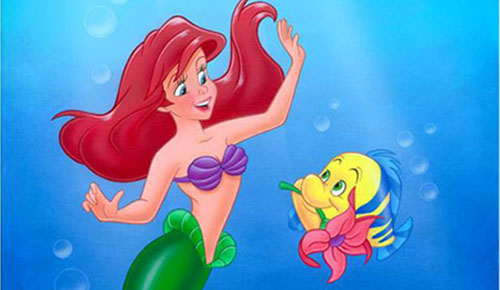 Imagine courtesy of Costa Alavezos
December 14 - December 15 ~ Walt Disney World® Resort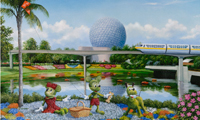 December 6 - December 14 &
December 21 - December 23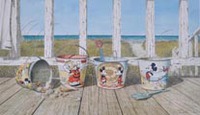 December 15 - December 23

December 15
Walt Disney World® Resort
Hop In Jessica, newest release in the Studios Ink & Paint Collection!
Vinylmation™ Series Pirates of the Caribbean: On The Stranger Tides Release & Signing with Disney Artist, Casey Jones

December 21st ~ Ahoy Landlubbers!
Here are the details:
Pillage and plunder for this next series of Vinylmation™, inspired by
Pirates of the Caribbean: On Stranger Tides
. Imagination is endless with Vinylmation. Disney Design Group Senior Character Artist, Casey Jones has created the original designs on these three-dimensional canvas. Build a collection of your favorites from this four figure series. Each open edition 3-inch figure retails for $14.95, each.
This is some very exciting news as I'm a Huge Pirates of the Caribbean Fan and love everything Pirates. In this Vinylmation collection there will be Jack, Barbossa (with a peg leg), Angelica and BlackBeard.
So set sail for D~Street in Downtown Disney Westside on December 21st from 5:00 pm to 7:00pm for a special appearance and signing with Casey Jones.
Thanks for joining me and have Magical Day ;-)
Go to the Disney Website for more info
Pin It