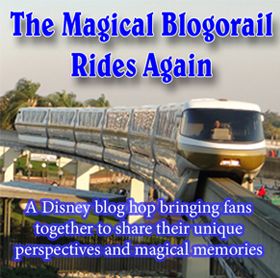 Please join me today on the
Magical Blogorail Rides Again Blog Hop.
This post was from December 6th 2011 and it talks about How I fell in love with Disney and why I keep going back :-). My story different from most really starts after I grow up and start to see the world. Soon after going to Disney World, I realize how much I loved it and don't want to leave. Even today those feelings never changed and I still act like a kid when I'm there and now I get to share all those memories, fun experiences and pictures with my husband and kids.
And So the Magical Journey Begins :
My love for Disney began not as a child, you see I had never gotten to the most wonderful place on Earth until I was 18. At this point in my life I was had recently graduated High School and didn't know what I wanted to do with my life so heading to Florida seemed like a good idea. But my destination wasn't WDW it was the beach. I wasn't interested in Walt Disney World too much, I didn't know that much about it really. After my family decided to go to the parks for one day, I could pick which one to visit and back then it was Magic Kingdom or Epcot, so I choose Epcot. It seemed like it would be a lot more fun than Magic Kingdom for my age group. The funny thing is I don't remember anything at all except for what I called the "big ball" (Spaceship Earth). The other funny thing, I have nothing to remember this trip by except the ticket. I bought no souvenirs, not a one.
Click on the link below to read more --->
http://www.candoitmom.com/2011/12/my-first-disney-memories.html
Thanks for Stopping by and enjoy the Blogorail Hop ...
Pin It