This is a Sponsored post written by me on behalf of Bright House Networks for SocialSpark. All opinions are 100% mine.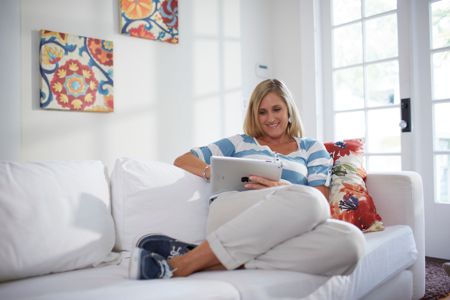 Bright House Networks is the sixth largest owner and operator of cable systems in the U.S. and the second largest in Florida with technologically advanced systems located in five states including Florida, Alabama, Indiana, Michigan and California. They also serve more than 2.4 million customers who subscribe to one or more of its video, high-speed data and voice services. The company also offers a full suite of phone, Internet, Ethernet and cable television services to businesses of all sizes. Bright House Networks is also very involved in many of the communitities it serves and workes hard to improve the lives of those in those communitities.
Bright House Networks TV (BHTV) has both a free app download the app here and a website. You can use it to view live HD programming anywhere in your house on your iPad, iPhone, and most Android devices. You can also access the website to view live BHTV programming on your computer. Another benefit is you can also view an on-screen guide that shows the programming available on your television set and schedule a recording to be saved to your Bright House Networks DVR, if you have one.
Some of the amazing features with Bright House Networks TV are that you can find what you want to watch with an easy-to-read channel guide. Customers can flip through the channel listing and enjoy what's on with just a slide and tap of your fingertip. You can enjoy networks like A&E, Discovery, Lifetime, Nick, SyFy, CNN, Disney Channel, HGTV, History, Travel Channel, USA and premium channels such as HBO, Cinemax, Showtime and Starz.

Bright House TV works within the range of your home's wireless network. So, whether you want to watch Food TV in the kitchen, the game out in the garage or a movie in that quiet spare room, you have the flexibility to take your TV anywhere you are in your house.
Also, BHTV is a free service available to all Bright House Networks video customers.
- Customers simply need to set up a MyServices account, also free, that provides authentication and allows access to BHTV
- The Apple and Android apps can be downloaded at either the Apple App Store or Google Play respectively
- To view on your computer, go to https://bhtv.brighthouse.com
If you have more questions please visit their FAQ's- Here @BHTV's FAQ
Currently, there are approximately 250 channels available through BHTV with more channels being added every month.
Be sure to check them out on Twitter too -  https://twitter.com/BrightHouseCare
Thanks for stopping by and be sure to check out Bright House Networks TV -  in any room and on any device. I love this idea because, it's convenient and very cool that I could watch TV on my computer or iPad no matter what room I'm in.